Hello! Welcome to Landeelu.com! If you haven't heard, SLIME IS THE NEW BLACK. Actually, I'm guessing that since you are here you probably already know that. Kids are OBSESSED with this stuff! My daughter is constantly trying out a new homemade slime recipe she saw somewhere and then playing with it for hours. I figured my daughter couldn't be the only one out there always looking for more slime recipes so I put together this post chock full of fun ones to try!
Click on the link below each image to take you to the full slime recipe! Your kids will love you for it!
The ultimate recipe for making slime! See how to make slime easily with household products! So fun to play with! Easy Three Ingredient Fluffy Slime Recipe and Tutorial | Landeelu
"Kids will love playing with this Minion slime! This easy recipe makes a great boredom buster and Minion party favor." DIY Minions Slime Tutorial | a Pumpkin & a Princess
"Make Crystal Clear Slime INSTANTLY! No more waiting to get crystal clear slime. With just 3 ingredients you can make crystal clear slime." Clear Clue Slime with Blue Glitter Flakes aka Liquid Glass Slime Tutorial | Mom Luck
"Make this easy birthday cake slime with lovely notes of vanilla. This edible slime only requires three ingredients to make!" Edible Marshmallow Birthday Cake Slime Video Tutorial | Fast Fun Fix Friday
"Fun and vibrant unicorn slime recipe. Perfect children's craft- safe, no borax." No Borax Unicorn Slime Tutorial | My Frugal Adventures
"Sand Slime – how to make insanely colorful sand slime with only 3 ingredients (and NO food coloring)! It's stretchy but not sticky making it the perfect DIY craft for kids!" How to: Make Sand Slime | Smart School House
"It's a tale as old as slime… Make easy and fun Beauty and the Beast Slime with a few simple ingredients!" Beauty & the Beast Slime DIY Recipe | as the bunny hops
"Such a fun children's craft! Fish in a Bag slime. Perfect for summer afternoons or rainy days." Fish in a Bag Slime DIY Tutorial | My Frugal Adventures
"Take slime play to a whole new level with amazing magnetic slime. This recipe only takes five minutes to make and requires just a few materials, making it an easy way to WOW the kids!" How to: Make Magnetic Slime | Growing a Jeweled Rose
"Ooey, gooey, stretchy, and squishy – kids will go wild over this awesome edible slime recipe made from……gummy bears!! Safe sensory play for all ages!" Edible Easy Gummy Bears Slime DIY Recipe | In the Kids Kitchen
Cotton Candy Slime Recipe & Tutorial | Savvy Naturalista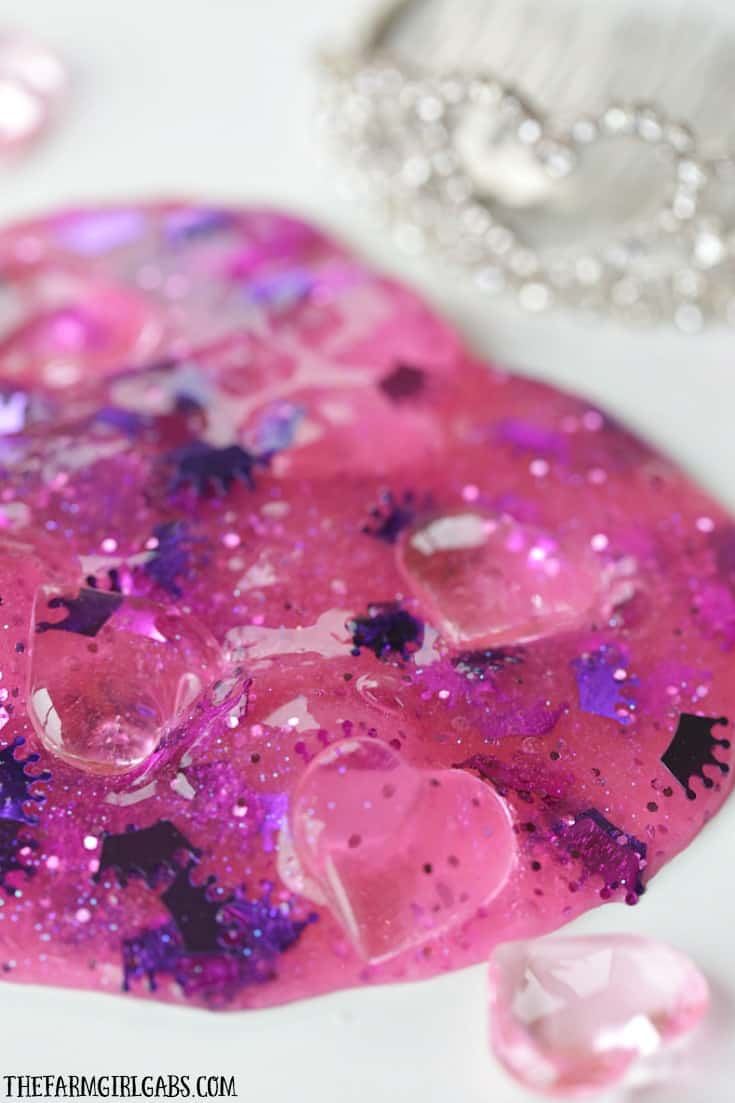 "Ready for some ooey, gooey, princess fun? This Disney Princess Slime recipe is the perfect DIY boredom-buster craft for your Disney Princess." Disney Princess Slime DIY | The Farm Girl Gabs
"Learn how to create perfect Unicorn poop slime (rainbow homemade slime recipe) to play with!" Unicorn Poop aka Rainbow Slime Recipe | MomDot
Homemade Slime Recipe Ideas to Try!
"Make this beautiful, sparkly, stretchy slime that looks just like the swirls of a galaxy and keep your preschooler entertained for hours!" Night Sky Activities for Preschool : Borax Free DIY Galaxy Slime | Twodaloo
"Want in on the slime movement, but not the toxic chemicals? Try this edible slime made from Starburst candies. Starburst slime is fun and tasty!" Edible Slime from Starburst Candy Recipe | Teach Beside Me
"Have you ever wanted to touch liquid gold? Our gold slime is as close at it comes to the real thing. This easy gold slime is amazing glittery sensory play." Gold Glitter Slime Sensory Play Recipe | Little Bins for Little Hands
"Have you tried crunchy slime yet? Kids love it. We created a borax free crunchy slime that feels like playing with bubble wrap." Crunchy aka "Bubble Wrap" Slime DIY Tutorial | The Spring Mount 6 Pack
**PIN IMAGE BELOW FOR MAKING A HOMEMADE SLIME RECIPE LATER!**
You can also make DIY Stress Balls as a fun kids craft out of slime as well!
ME WANT COOKIE! You too?
Sign up for Landee's newsletter and receive this free e-book of her favorite cookie recipes! Your family will LOVE them!
Plus you will receive information and inspiration all about creating a unique and happy home that you can be proud of right in your inbox each week!