I love an amazingly organized closet. Are you the same? They just make life a joy, you know? There's something about knowing exactly where everything is and not needing a machete to get to it that will instantly bring a smile to my face. Because of this, I am constantly on the lookout for awesome closet organization ideas and space saving hacks to implement. And because every closet's layout and function is different I need all the ideas I can get! Today I've rounded up some of the more genius ideas that I've seen so we can both experience the joy of an organized closet! Click the link below each image to take you to the full post/tutorial! Yay for organization!

Build your own DIY Slide-Out Scarf and Belt Organizers following this step by step tutorial | View Along The Way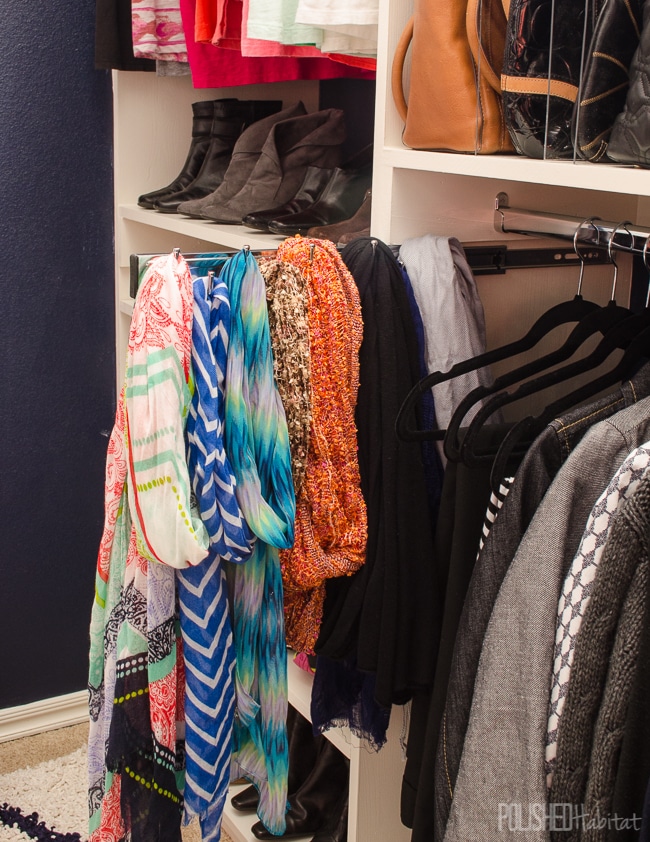 Or on a smaller and easier scale, install drawer slides to use as a pull out organizer for your scarves, belts and ties! | Polished Habitat
A Simple Way to Organize Purses on a Shelf | Blue is Style
Use cookware lid racks to organize and protect your pretty clutches! | Fabulous Fashions 4 Sensible Style
Such a CLEVER and easy way to turn plastic cheap hangers into "No-Slip" hangers for your slick blouses and strappy tops and dresses! DIY No-Slip Hangers Tutorial | My Own Style
Closet Organization Ideas: Easy and Inexpensive DIY Shoe Hangers Tutorial | Hey Wanderer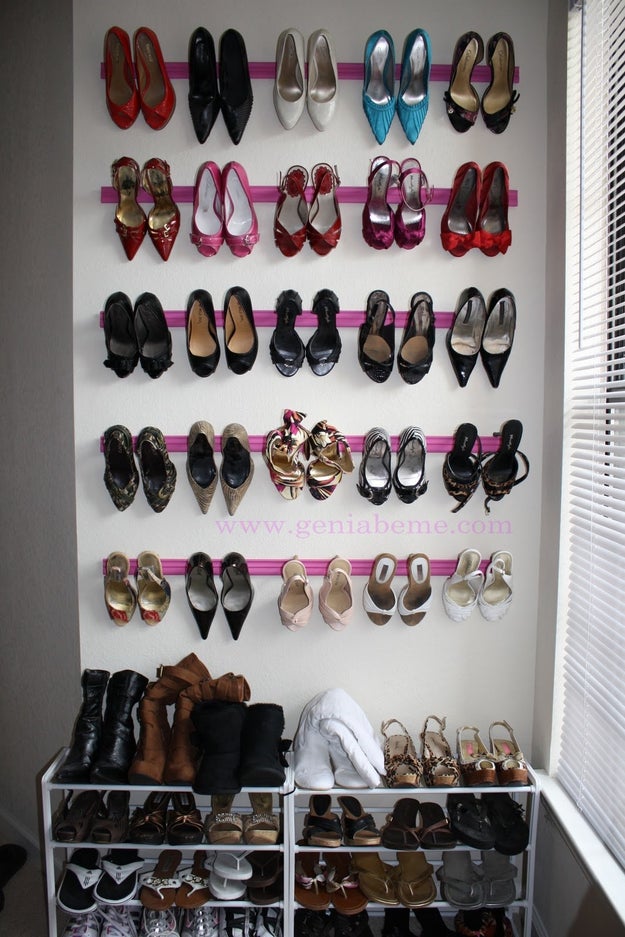 Easy! Nail up some crown molding style trim to hang up your fabulous heels! | geniabeme
Cover POOL NOODLES in pretty fabrics to keep your longer boots standing up straight! | Easy Tutorial: A Spotted Pony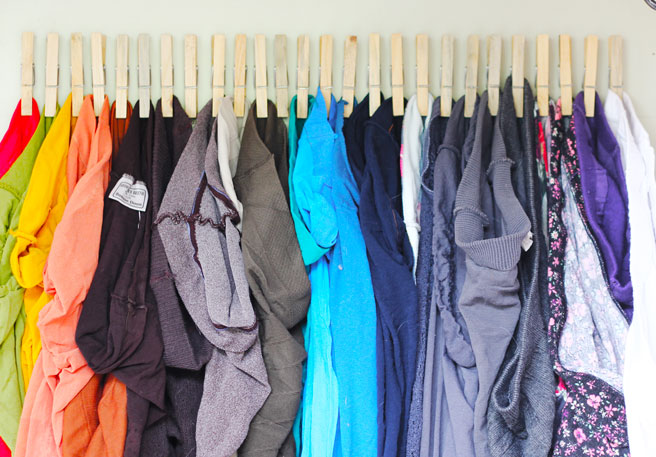 All of your TIGHTS, organized and easy to see all of your options at a glance! Easy and CHEAP – DIY Clothespin Tights Organizer Tutorial | Lana Red Studio
Closet Organization Ideas: Mount simple wall brackets to wasted blank areas in your closet to add tons more hanging space for your clothes! Livet Hemma Ikea Bracket Hack
Did you know this little trick for hanging sweaters? How to hang up your sweaters so they are all organized without ruining them by stretching out the shoulders! | The Happier Homemaker
Closet Organization Ideas and Space Saving Hacks!
Make your own double decker clothes hangers with this easy and FREE soda tab hack! | Listotic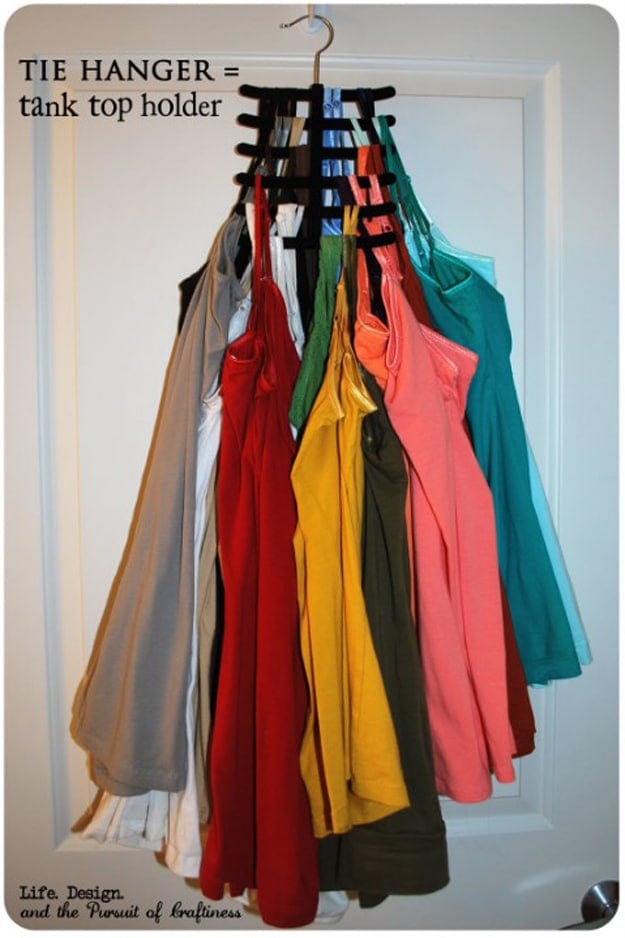 Use a TIE HANGER to hang up and organize all of your strappy tank tops! | Life Design Craft
Or you can use cheap shower rings and a hanger to hang them up! | thinkhom
Cheap and easy way to double your storage space. Use dollar store handle baskets and S hooks to add easy storage for small items like mittens, socks and tights! | diyenergy
If you don't have a light in your closet (or want to add additional light) – add rope lighting like she did! | Reality Daydream
Budget Friendly "Built in look" IKEA shelving hack! | Landeelu
Create a pretty and EASY DIY Jewelry Organizer to hang in your closet to make it easier to pick out the perfect bobbles to go with your outfit! | Landeelu
Closet Organization Tips for KIDS closets! | Landeelu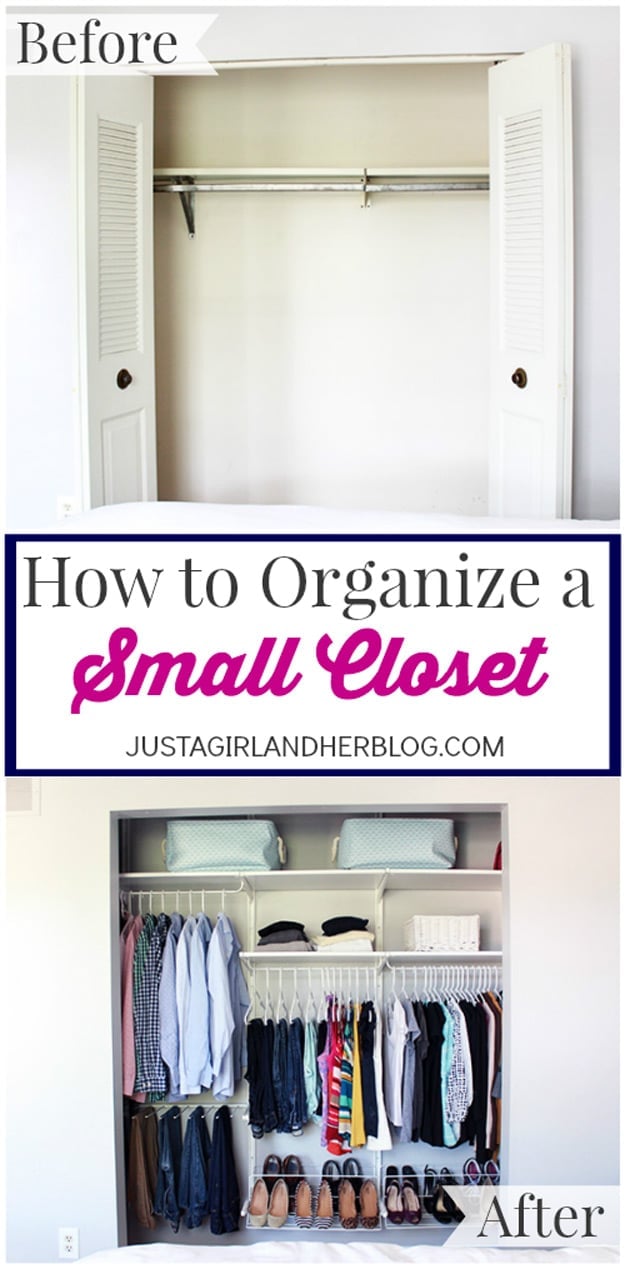 How to: Organize a SMALL Closet | Just a Girl and Her Blog
**PIN IMAGE BELOW FOR LATER!!**
ME WANT COOKIE! You too?
Sign up for Landee's newsletter and receive this free e-book of her favorite cookie recipes! Your family will LOVE them!
Plus you will receive information and inspiration all about creating a unique and happy home that you can be proud of right in your inbox each week!