So, little Landee has some exciting things coming her way these days.
First of all, I currently have my very best friend and roommate from college here visiting with her family. Is there anything better than an old friend who knows, literally, EVERYTHING about you? I'm thinking no. Nothing better.
Secondly, cute Jamielyn of I Heart Nap Time has asked me to be a contributor on her blog!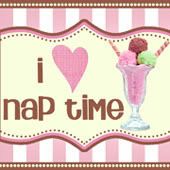 I was so excited when she asked me to be her "Home Decor/Crafts" person.   She made the announcement here.  Of course now the nerves have set in as I realize I will actually be expected to deliver something fabulous on a regular basis.  Yikes.
I will definitely keep you posted as to when it is my turn over there.  I think my first time will be June 22nd.  If you see anything I can do/copy/steal/Landee-fy, will you let me know?  The pressure is on!